The triathlete's legendary ovaries- or balls-to-the-walls attitude is pacing down as recovery becomes a training mantra. Not just recovery from injuries. The focus has shifted to prevention therapies.
"Triathlon as a sport is still very young," says world-class triathlete Leanda Cave. "In the past, athletes were successful with just a lot of hard work. But, as the sport got older and you started to be able to make a living from it, you have to look after yourself a lot more. That is where you have to make compromises. Do you want to train yourself into the ground to get that one glorious result or do you want a successful and consistent career?"
Cave's active recovery regime includes frequent massages, whirlpool soaks and saunas at the Hashani Spa at JW Marriott Starr Pass Resort. In her adopted hometown of Tucson, the Welsh athlete says it is more convenient to work in such treatments when they are right at the end of her Star Pass trail run or next door to her workout in the fitness center. Check out the $99 Summer Special for a massage, body or beauty treatment.
Cave says early in her career, it was just go-go-go. In 2001, she was the European under-23 champion. She took gold and the World title in Cancun in November 2002. But, by 2003, she struggled with injury and says she was frustrated with her coach who had the old-style push, push, push.
"My 'ah ha' moment came when I went to a camp and watched other athletes," she explains. "They were able to not train and instead recover if they were having a tough day. I came home to my boyfriend Torsten Abel (already a renowned coach) and said he had to be my coach."
The new approach worked and she earned her second world title in 2007 at the ITU Long Distance Triathlon World Championships in France. Moving to the states with Abel, she consistently places at the head of the pack including setting a course record this year in the 70.3 at Disney Resort in Florida. Athletes also are readjusting their priorities. Jaci Scully, Valley personal trainer, says as her tri clients are maturing, they are going to 70.3s and other shorter distances to make time for other things in life such as having children.
MASSAGE THE HARMONY
Seeking balance is the holistic goal. Tod Miller, Ironman and founder of the BodyWalking Institute in Phoenix, says although more triathletes are looking for therapies before an injury, most still come limping in his door. Once they heal, many continue regular treatments when they see they can recover from races and training faster. Some of his notable clients include Ironmen Michael Williams, Dan Cadriel and Joe Courtney.
Although BodyWalking is an ancient technique, Miller created a formalized approach to the concept. He says that it is the next level of massage, offering a much deeper and more therapeutic form of the treatment. Miller uses it in his own personal training program, which is now gearing up for the November Ironman Arizona to qualify for Kona.
Requests for BodyWalking seminars by clubs such as First Wave Triathlon and First Triathlon are evidence that triathletes are more aware of and want to know more about methods to keep them in the game.
"BodyWalking accelerates circulation, circulation in return gets out the waste products and nourishes with new blood, which helps the body recover more quickly," he says. "It's about harmony and balance, not just working on the shoulder or neck or calf." He adds, "Dan Cadriel is a perfect example. He was training for Soma last year. He came in after a race injured. We got him back to a healthy state and continued while he trained. Because he's such a race car, we tuned him up and he PR'd the race by two minutes."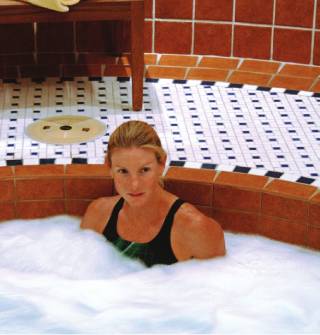 IT TAKES A VILLAGE
As the sport of triathlon becomes more complex, so does the team that supports its athletes, according to Matt Kramer, physical therapist and athletic trainer with Endurance Rehab of Phoenix and Scottsdale.
"There's collaboration among professionals to keep triathletes training on the razor's edge without peaking too early or breaking prior to the race," he explains. "We usually find ourselves in a key role. Our physical therapists work on their injuries, we look at their running gaits, we check their bike fit, and we look at areas of weakness and imbalance. Our role is to get and keep them at a healthy performance level."
For example, Kramer says an athlete comes in with knee or shin pain when running. The endurance staff does an in-depth evaluation including balance, strength and mechanics. Perhaps the analysis reveals a weakness on the outside of the hips. Exercise for the hips plus flexibility training may be the solution. Or, a physician may be called in if a bone fracture is suspected. It might be a footwear issue. Sometimes nutrition is the focus.
Pointing out another trend, Kramer says, "The NFL players we work with all have huge rehab staffs as members of their team. Triathletes are joining teams to have some of those same benefits. We work with several like the Phoenix Triathlon Club."
COOL STUFF
Zen or not, triathletes always look for an equipment edge. Phoenix trainer and triathlete Kim Saari and Getfit trainer and tri coach Cheryl Miller say one such trend is compression gear that helps blood flow. There are light-weight, usually white compression socks for racing and tighter black socks for recovery. They also see a lot of "bat wings" in warmer races such as at Kona. The clothing is worn across the upper back and shoulders and helps keep the racer cool. Saari adds, "Garmin has a new GPS watch [the Forerunner 310XT] that recently came out. It is waterproof; you can swim with it while it tracks distance, speed, elevation, heart rate and more. It can wirelessly send data to your computer and holds a charge for up to 20 hours. Sweet!"